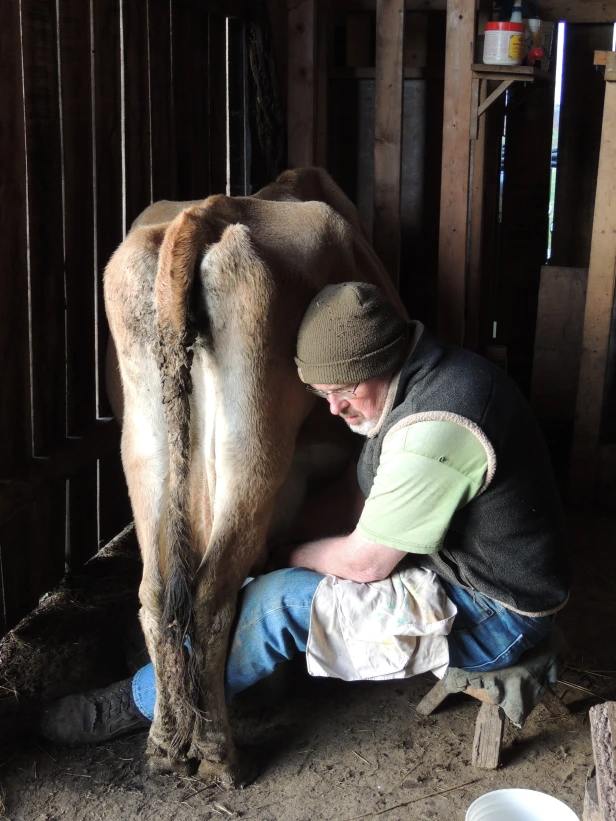 who we are
Shawn and Beth Dougherty have been farming together since the 1980's, for the last twenty years in eastern Ohio, where they manage 90 acres, much of it designated by the state as 'not suitable for agriculture'. Using intensive grazing as the primary source of food energy, they raise dairy and beef cows, sheep, farm-fed hogs, and a variety of poultry, producing most of the food, feed and fertility for humans and animals, on the farm. Concerned that farming is so often dependent upon multiple off-farm resources, from feed, fuel and fertilizer to water and electricity, their ongoing project is to identify and test the means by which farming was done for centuries with a minimum of off-farm inputs. Their research has led them to identify grass conversion, especially the daily conversion of grass into milk by dairy ruminants, as a key to whole-farm sustainability, combined with the integrated nutrient feed-backs that are possible with a community of diverse animal and plant species, domestic and native. They are the authors of The Independent Farmstead, Chelsea Green Press 2016.
The Sow's Ear is a small, family-scale sustainable farm in far Eastern Ohio, comprising twenty-four acres of land designated by the Ohio land survey "not suitable for agriculture". We raise dairy and beef cows, pigs, and poultry, organic hay on leased meadows, root crops for animal feed, and four-season organic vegetables for human consumption. We raise most of what is consumed on the farm, by animals and people, with a surplus from which we derive some cash and from which we give to our community.
The principals behind our farm practices are the idea that a true farm is nearly or completely self-sustaining. It is not dependent upon the importation of feeds, fertilizer, or fossil fuels. It is not depleted by man's activities, but derives from them yearly deposits of wealth in the form of increases in topsoil, moisture, and fertility.
Pursuant of these ideals, we practice management intensive, or rotational, grazing, the age-old principal of moving livestock over forage in imitation of the passage of feral herds and flocks. We use spring and surface water via a variety of non-electric systems for nearly all our stock water and irrigation. Our gardens are four-season, organic, intensive, and hand-worked. We feed and manage our livestock to promote their natural well-being. By practices which reduce or remove the necessity of off-farm inputs, and therefore of significant cash inputs, we can allow our animals to live naturally and grow at their natural rate, rather than following principals of commercial farming which emphasize fast growth and profitability.
Our farm is an ongoing attempt to rediscover by extensive experimentation those goals and principals of farming which once were so obvious to mankind as to need no explanation, and to give form to the idea that a farm is a microcosm where diverse species interact to their mutual benefit, where man becomes caretaker and the land a font from which a superabundance of food, clothing, warmth, the means of life, sustain all those living on it and overflow to nourish those outside.
Check out our book, The Independent Farmstead
Breakout Sessions:
The Family Milk Cow
Captured & Low Pressure Water Systems
Starting a Homestead Business Panel Discussion with Shawn & Beth Dougherty, Pork Rhyne, Kody Hanner, and Randy Kemerly
Add-on Intensive Training Workshop. See Workshops Page for more info.