OUR PURPOSE
Redmond Agriculture's goal is to nourish the world's future by creating natural and sustainable products for healthier soils, plants, and animals. Since the 1950s, we have supported farmers with regenerative ag resources from our ancient sea mineral and volcanic deposit.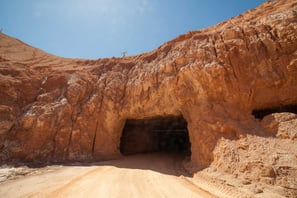 THE REDMOND DEPOSIT
There are few locations on Earth that contain the richness found at the Redmond mineral and clay deposit in central Utah. About 200 million years ago, a Jurassic sea (known as the Sundance Sea) extended down into modern day Utah. This seabed became a cache for life sustaining minerals which crystallized and hardened into a subterranean deposit. Around 60 million years ago, an eruption deposited volcanic ash over the sea minerals, creating a protective cap of bentonite. These 2 resources became the foundation for all of Redmond Agriculture's soil and livestock supplements.
OUR PROMISE
At Redmond Agriculture, we know that Nature Has it Right™. By using what the good Earth has to offer, we can help plants and animals thrive. Our customers are happy to report our products improve the health and productivity of their farms, big and small.
Learn more about our parent company on the Redmond Inc website.